Getting to know Nadia and Chris was such a delight. We met a few weeks before their wedding and discussed details over chips and spinach dip. They both had such a calm, yet excited approach to the day. I commend the way they handled the planning and preparations for such an event. Nadia explained to me that my services were the one thing she splurged on. She went on to say how important beautiful, heartfelt photography was to her. I wanted to hug her when I heard those words! I loved that she just "got it". She knew that when all is said and done your memories and your photographs are what is left to help re-live the day.
I asked Nadia to share how they went about their planning and preparing. She of course sent so much great information! I hope potential brides can learn from her advice.
Written by Nadia-
So much of our wedding was the volunteering of family and friends!  As a side note to my favorite vendors, I think that allowing my loved ones to pitch in gave everything so much more meaning.  I think too many people seek perfection when the real satisfaction comes from the meaning that all of those personal touches bring.  I love that my friends hosted, Chris's friend officiated, my friend's mom did the cake, my mom did the flowers and centerpieces.  A friend designed the invitations and emceed, and SO much more.  They all did a beautiful job.
As for great vendors:
Sound Equipment: I thought that DirectPro Audio was fantastic.  Anyone who doesn't go the professional DJ route should speak to them.  Jason Bliley is a true audio guru. 
http://www.directproaudio.com
All printed items: Creighton University Print Center (this is open to the public to use) 
https://www.creighton.edu/printcenter
  The quality is great.  They color matched my invites to my bridesmaid dress sample, and their customization options are out of this world.
RSVP site: Everyone should do this 
http://rsvpify.com
  I sent physical invitations but RSVP's were submitted online.  Pay the $20 for the upgrade, especially if you're arranging seating.  It is so perfect for staying organized with your guest list.
Your wedding song?
Our wedding dance: "All of Me" by John Legend
I walked down the aisle to "The Luckiest" by Ben Folds
What was the most memorable moment of your day?
Walking out to the bubbles with everyone lined up.  Walking out hand in hand and seeing everyone we loved in one place was amazing!
Any advice for other future bride/groom?
1) Don't spend a ton on everything!  Pick a couple of priorities to splurge more on and cut back on the other stuff.  This kind of goes back to the piece about allowing your family and friends to contribute.  We didn't ask anyone.  People want to help, and when they do it all just means so much more .
 2) Make it YOURS.  Do what you want to do for your day.  This will make you and everyone else  happy once they see how well your day reflects you as a couple.
Funniest memory from your wedding day?
I bought some Hershey's Kisses with wrapping that was pink and silver striped  to scatter on the reception tables over 3 months ahead of time after Valentine's Day.  My bridesmaids found them and thought they were for the chocolate fountain and diligently unwrapped ALL of them in 3-4 minutes while I was out of the room.  This was not a big deal to me–don't sweat the small stuff!  However, the look on their faces when they realized what they had done was priceless.  I felt bad that they looked so shocked, but I told them it' was okay!  I still laugh thinking about their faces when they realized the mistake.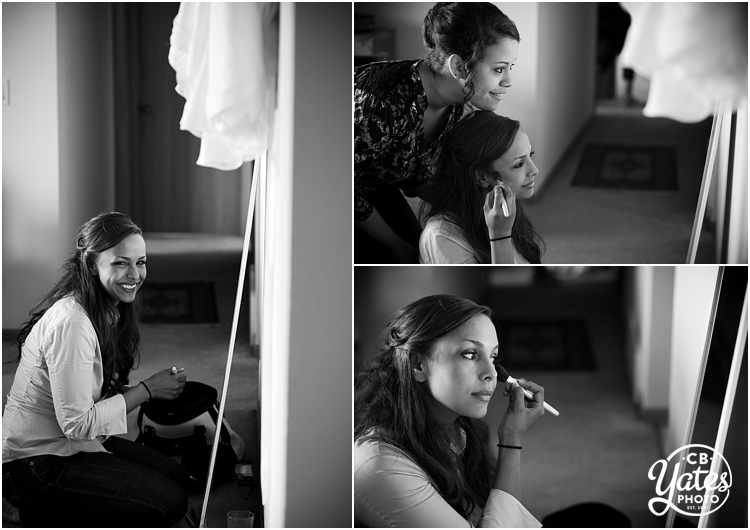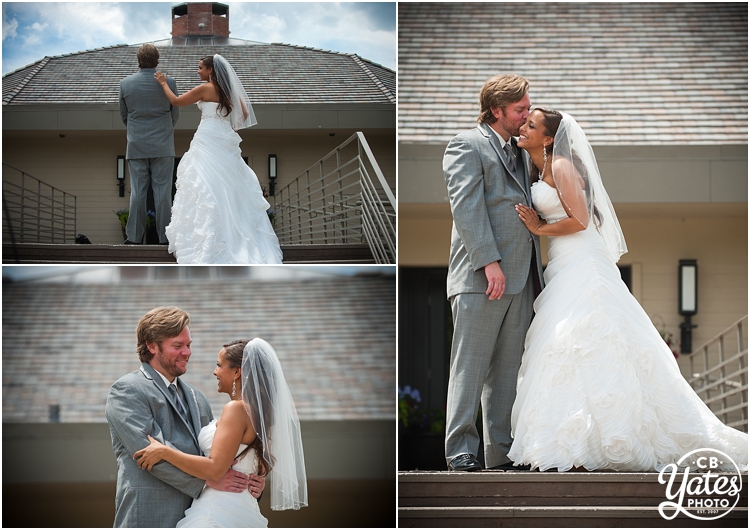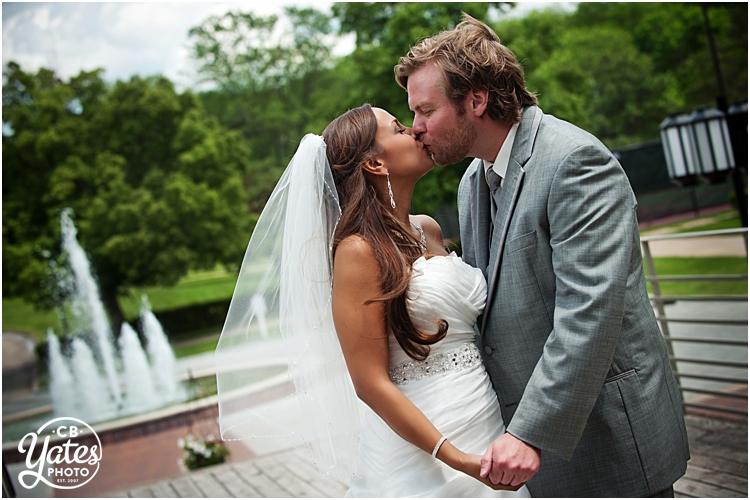 Want to see more from Nadia and Chris' wedding day? Watch their slideshow below.